Marketing as a Service (MaaS) is an increasingly popular solution for businesses looking to outsource their marketing needs. MaaS provides a comprehensive and customizable range of marketing services, designed to help businesses of all sizes to achieve their marketing goals without the need for an in-house marketing team.
Whether you are a B2B or B2C company, MaaS is a flexible model that can be customised to meet your unique needs, regardless of your industry or target audience.
Benefits
In this blog post, we'll explore some of the benefits of MaaS, why it may be the right choice for your business, and detail our agency's process in onboarding new clients for our marketing services.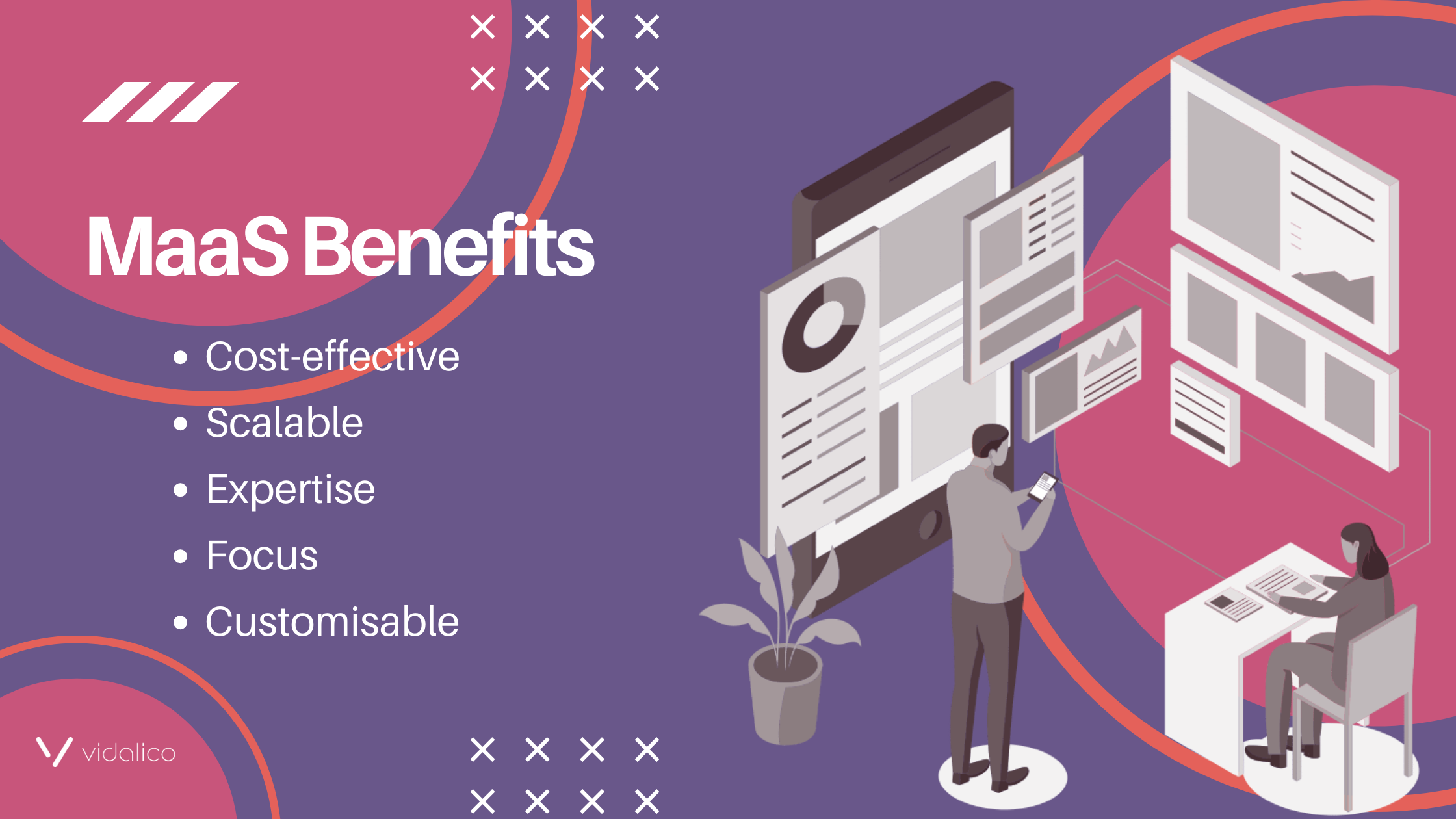 Cost-effective
One of the most significant benefits of MaaS is that it can be a cost-effective solution for businesses. Rather than hiring an entire marketing team, which can be expensive, MaaS allows you to pay for the specific services you need. This means you only pay for the work that is done, rather than having to cover salaries, benefits, and other overheads associated with an in-house team. This can help you to save money while still getting the marketing results you need to grow your business.
Scalable
Another benefit of MaaS is that it is scalable. As your business grows and your marketing needs change, you can adjust the level of service you receive. This means that you can scale up or down your marketing efforts as required, without having to worry about hiring or firing staff. This scalability makes MaaS an ideal solution for businesses of all sizes, from startups to large enterprises.
Expertise
Marketing as a Service providers typically employ marketing experts who have experience in a range of marketing disciplines from different industries. This means that you can benefit from the expertise of a team of professionals without having to hire them directly. These experts can help you to develop a marketing strategy that is tailored to your business needs, and can provide you with insights and advice that you may not have access to otherwise.
Focus
MaaS allows you to focus on your core business activities, rather than having to worry about marketing. This means you can spend more time on product development, customer service, and other aspects of your business that require your attention. By outsourcing your marketing needs, you can free up your time and resources to focus on what you do best.
Customisable
Marketing as a Service is a customisable solution that can be tailored to meet the specific needs of your business. This means that you can choose the services you need, and only pay for what you use. This flexibility can help you to create a marketing strategy that is tailored to your business goals, and can help you to achieve the best possible results.


Marketing as a Service - Vidalico Digital Process
Onboarding a new client for Marketing as a Service (MaaS) is a crucial process for us here at Vidalico Digital. It sets the foundation for a successful partnership and ensures that both the client and us are on the same page when it comes to goals, expectations, and deliverables.
Here's our step-by-step process you can expect when working with Vidalico Digital and our marketing as a service team.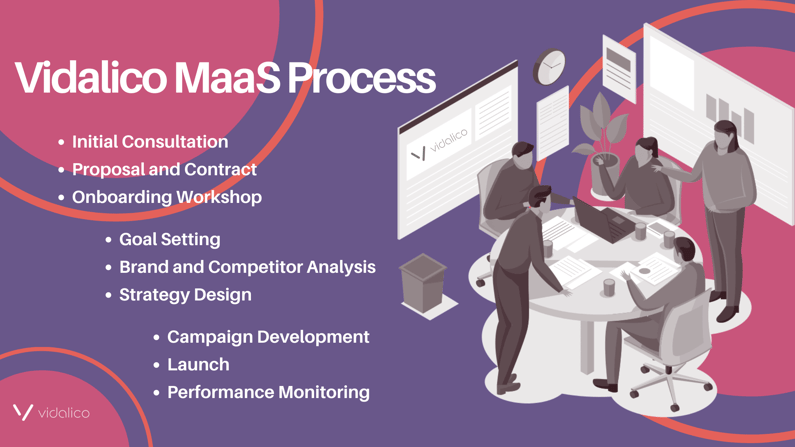 Initial Consultation
The first step is to schedule an initial consultation with you. During this consultation, we discuss your business objectives, target audience, previous marketing efforts, and any pain points you have experienced. This will help us to understand your needs and determine how our agency can help.
Proposal and Contract
Once we have gathered all the necessary information, we can put together a proposal that outlines your recommended marketing services and associated costs. Once the proposal is accepted, a contract is signed that outlines the scope of work, timelines, and payment terms.
Onboarding workshop
The next step is to schedule an onboarding workshop with you. This meeting is an opportunity to introduce our team and set expectations for the partnership. During the workshop, we discuss the project timeline, KPIs, communication protocols, and deliverables and most importantly your role in the whole process.
Goal Setting
To ensure that everyone is on the same page, we work with you to set clear, measurable goals for the project. Ideally, these goals are aligned with your business objectives and are achievable within the project timeline or otherwise agreed.
Brand and Competitor Analysis
Before we can start creating marketing content, it's important to understand your brand and your competition. We then conduct a brand and marketing audit to help us to identify your unique selling points, tone of voice, and visual identity. The competitor analysis will help us to identify the strengths and weaknesses of your competitors and how you can differentiate themselves.
Strategy design
Based on the insights gathered during the initial consultation, onboarding workshop, brand, and competitor audit, we can develop a comprehensive marketing strategy. This strategy typically outlines the channels, tactics, and messaging that will be used to achieve the mutually agreed goals.
Campaign Development
With the strategy in place, it's time to start developing the individual campaigns. This may include content creation, social media management, email marketing, PPC advertising, and other tactics outlined in the strategy.

Launch


Once the campaigns are developed and approved, it's time to launch them. This may involve setting up social media accounts, creating landing pages, and scheduling email campaigns. It's important to have a launch plan in place to ensure that everything is executed smoothly.
Remember this: Services and timing can be adjusted as needed and agreed (not everything needs to start at the same time) based on the highest priority and impact for you.
Performance Monitoring
Throughout the project, we monitor the overall marketing performance as well as the success or failure of individual campaigns. This helps us to identify what's working and what's not and make adjustments as needed. Setting up the reporting processes at the beginning of our partnership is crucial as we want to make sure that everybody follows the same metrics and KPIs. Without structured and clear data analytics approach we cannot successfully execute our marketing services.
Not every tool and strategy always apply to your business, and therefore our mission is to design and implement the right marketing mix to help you grow.
In conclusion, Marketing as a Service provides businesses with a cost-effective, scalable, and customisable solution to their marketing needs. By outsourcing their marketing efforts, businesses can benefit from the expertise of marketing professionals, free up their time and resources to focus on their core business activities, and create a marketing strategy that is tailored to their specific needs.

If you're looking to grow your business and achieve your marketing goals, Marketing as a Service may be the right choice for you. Not sure where to start?
Book a free marketing evaluation call now.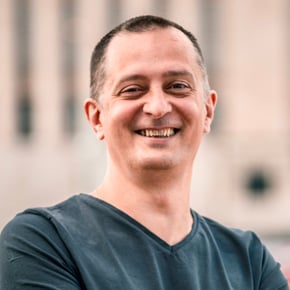 Constantin Buda
As the Growth Strategist and CEO of Vidalico Digital he works with B2B and B2C companies, helping them translate complex, high-tech information into marketing stories that drive sales.