Planning, strategizing, analyzing, selling, promoting, and so on and so forth. There are so many actions a marketer or salesperson has to do in a workday, that sometimes it becomes overwhelming. We've all been there: stressed out about the huge to-do list, back-to-back meetings, looming deadlines, clients, and upcoming campaigns. But we survived and we learned how to work efficiently.
We wrote this blog with you in mind: the busy bee, jumping from one task to another, trying to prove the results of your work while staying on top of everything. We believe good tools can make a difference, so we compiled a list of our 10 favourite tools that won't break your budget and will make your life easier. We divided them into three categories so you can jump directly to those areas you feel need the most work: sales, marketing, and monitoring and productivity.
Sales

Hubspot Sales:
As surprising as this sounds, many salespeople don't work as smart and efficient as they could. Most of the time it comes down to having the right tools and knowing how to use them to your advantage. Hubspot is a wonderful tool that offers everything in one place. The Sales tool enables salespeople to streamline and automate most of the processes. With Hubspot, you can send tracked emails, use the mobile app to place calls from your contact list, and even automatically create contacts in the app by taking a photo of a business card.
Let's take it to step by step and provide some examples.
When you place a call, whether the prospect answers or not, you can create follow-up tracks, notes, and comments as well as clearly write down the outcome of the call. Every action you take with a particular prospect is then seen by everybody who has access to the same CRM system. Other members of your team can follow up, have a clear overview of the interactions that took place, and make sure everybody is aware of where that prospect is in the funnel. This way, there is no room for mistakes; you don't have to spend time in meetings to discuss what you did, whom you talked to, whom they have to follow up with, and so on.

These are the sales metrics that enable you to analyse your customer pipeline, identify what has worked so far and what hasn't, how many times you had to speak to someone before they decided to move to the next stage of the journey, and so on. You have all the information on your prospects and a clear view of the buyer's journey. Now what? You automate your work!
With sequences, you can speed up the engagement process. You can create several sequences that start from the first touchpoint, all the way to send emails, documents, ebooks, and presentations. This can continue to the stage when they make a decision.
You can also automate your deals and meetings. The meeting link feature is powerful because you just have to integrate it with your calendar and then you can insert it in the email signature, website, call to action, etc. Now you have simplified and streamlined your process.
Crystal Knows:
This is a tool that can tell you anyone's personality based on their online profile. It might creep out some of you, but we promise it's better than you think. How does it work?
You create an account and install an extension in your browser. You log in to your LinkedIn account and look for a person on Linkedin that you want to get information on. Now Crystal works its magic and analyses the profile. We tried and tested it on several people and we can tell you they were more than surprised to see the results and how accurate the information was.
The tool will tell you about personality type (leaders, doers, thinkers etc.), some basic information about what comes more naturally to a person, what energises them, what challenges or drains them, etc. Based on this it provides recommendations on how to approach the person: should you book a short meeting, have a clear presentation, present bullet points? This is an amazing tool that helps you better connect with the person you wish to interact with. You will have better engagement rates and responses with your prospects.
Moreover, it's a communication tool that helps you become a better salesperson and avoid mistakes when reaching out to prospects. As an extra selling point, it also integrates with Hubspot to make it even more powerful.
PandaDoc
Another tool we use and love is PandaDoc. This is an awesome tool that helps sales teams simplify the process of generating, negotiating, and signing proposals, quotes, and contracts.
We use it to send out proposals and quotes, and the best part is once send something, you can track all the activity. You can see when someone opened the document, how much time they spent on it, how many times it was opened, etc.
One of the great features is the e signature that you can embed in the document. It's legally binding, so you don't have to spend time worrying about meeting in person and signing contracts.
Another cool feature is the payment option. Simply link to your quote and proposal, as well as the payment system you wish to use; you can even automate the process and choose to renew a payment automatically on a monthly basis. Like many of the tools on this list, this one also integrates with Hubspot, which makes it even more powerful during the sales process. Just give it a try! It has a great library that provides loads of templates so you can get started like a pro. Use the audit feature and see what happens with a document from enrollment to the moment it is signed.
Vidyard
This is a video tool that helps you generate and close more deals. Since it's a video platform, here's a video that shows how it works:
Marketing
Hubspot Marketing Automation
This is an all-in-one inbound marketing tool that can serve the entire team. It has so many features we would need several blog posts to get into all the details. Instead, we will do our best to keep it short, tell you how we use it and how it helps us better organize our work.
We use it both for our clients and for our own work at the agency. Depending on your needs there might be some features and settings you like more.
First of all, what can the tool do? Pretty much everything when it comes to inbound marketing. So far these are the features we've been using most:
Blogging: while our website is on Squarespace, we integrated our blog with Hubspot for better results. We migrated our blog to Hubspot so we can receive better visibility in terms of performance, to better manage SEO, and create clusters, topics, and pillar pages. As the backbone of our content strategy, it's essential to have great tools in place for blogging. This leads to the next feature.
SEO helps us plan our content strategy around topics. The tool gives suggestions for keywords and subtopics, and it helps us organize our already written blog posts in a more relevant way for search engines.
Landing Pages are really easy to use. Even if your entire website is not built on Hubspot, it can create templates based on how your website looks. Then you simply drag and drop what you need onto your landing page: forms, CTAs, offers, and your own brand's images. We recommend creating your landing pages with Hubspot because here you can also create forms and CTAs whose performance can easily be tracked by integrating them into your workflows.
Calls-to-Action: Hubspot makes it super easy to design CTAs everyone wants to click on. You can create them as simple buttons or create your own design and make them pop up. They then can be integrated in landing pages, blog posts, emails or signatures and you can also track their performance.
Email marketing: whether you use this to automate your email campaigns, create workflows, and move prospects down the funnel, or just for your monthly newsletters, this is a powerful tool. It's incredibly easy to build your emails, and choose triggers, conditions and actions so your emails will reach the right leads at the right time. Building workflows is fairly easy and can be tied to clear goals so you know your email campaigns are not in vain.
Social Media. We must admit we haven't used this tool much because we already have other tools in place. But we do use it to automatically send our new blog posts on social media.
There are more amazing options and features you can discover on their website.

Keywords Everywhere
This is a free browser add-on available for Chrome or Firefox. This tool is great for marketers who want to rock their SEO. It shows monthly search volume, cost per click and competition data of keywords. This is a great time-saver because you don't have to spend hours on copying data from the website and finding search volumes for another. Plus, you no longer have to switch between Google Keyword Planner and your other tools. You can access the metrics for any list of keywords and extract them in different formats like excel, csv or pdf.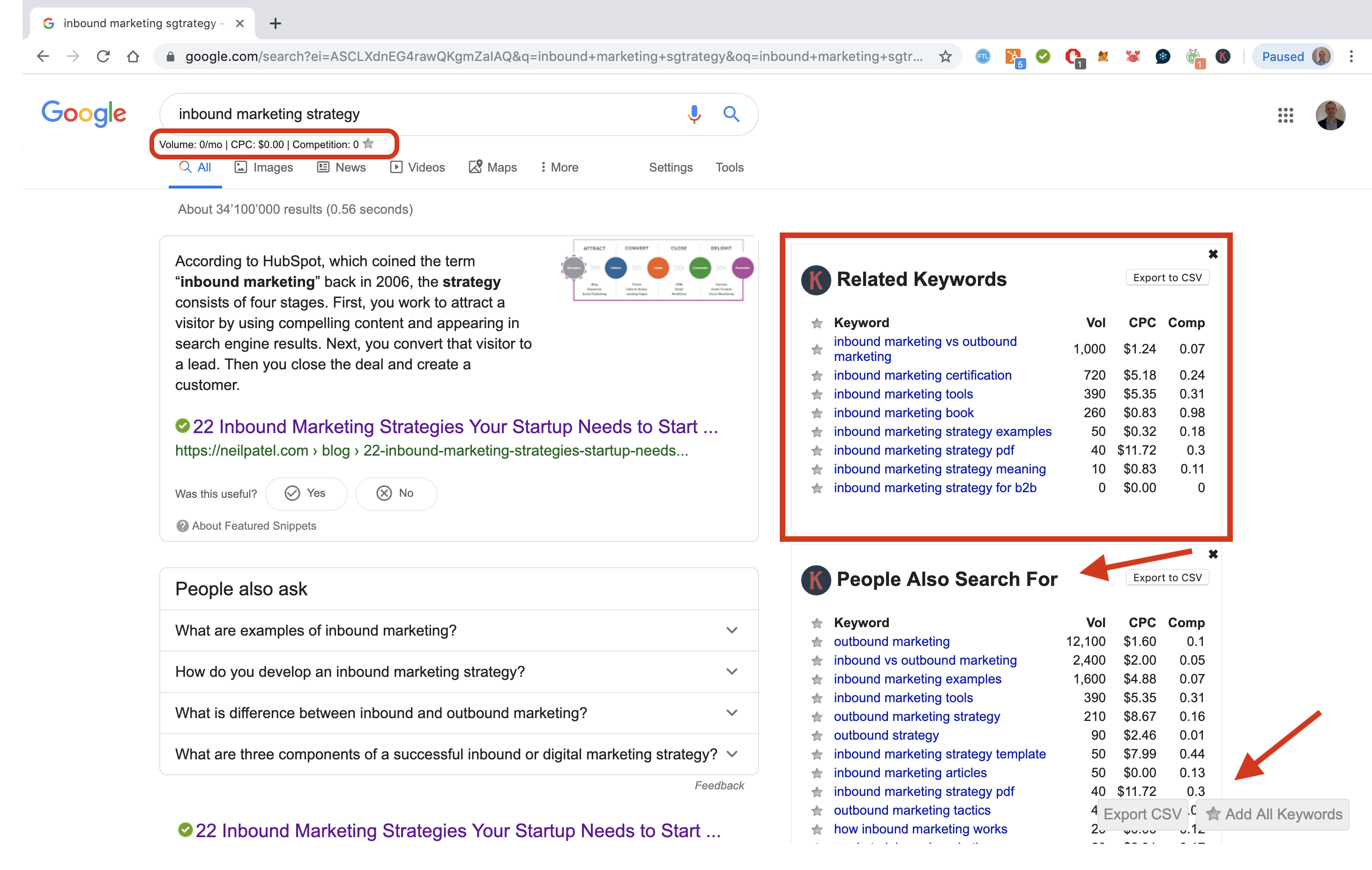 As part of your digital marketing strategy we know you must have well-thought social media and content plans. Because these can become very complex, with many requirements, schedules, calendars, etc. you should have some good tools in place. For planning and scheduling Social Media posts we use ContentStudio and Facebook's Creator Studio.
Content Studio
While this tool can do more than what we actually use it for, we are now mainly using it to schedule our social media posts. We use it for all our clients. When necessary we create content plans with curated content. It's quite straightforward and easy to use. Choose the social media account you wish to post on, write your post, add hashtags, add the link and check the preview before scheduling. It also provides its own URL shorteners so when you copy and paste your link it will automatically shorten it.
Another feature we use for some clients is the content plan for curated content. We select the topics, keywords we want to have and domains we want to exclude and we get a weekly list of articles we can review and use for our social media posts. Recently it launched the insights and analytics feature but because we have other tools for that we haven't explored the details further (continue reading for more information on a great tool for data analytics).
Facebook's Creator Studio
Facebook's Creator Studio has been a lifesaver. Although it was designed to effectively post, manage, monetise and measure content across all the Facebook Pages and Instagram accounts, we use it to schedule our Instagram posts. It has been a struggle to find really good tools for scheduling Instagram posts without using our phones. And then we discovered this. You can schedule posts and videos for your feed and for your stories, too. You can also check the insights of your Instagram account. It saves a lot of time and we love we don't have to go back to the phone to approve posts through other apps.
Monitoring and Productivity
Databox
Spending time to analyse each piece of data separately is time consuming and most of the times does not provide a good overview. As seen above we already mentioned a bunch of tools that already have their own analytics. Browsing through all of them and trying to make comprehensive reports is extremely daunting.
The solution?
Use a tool like Databox, which integrates all analytics in one beautiful looking dashboard.
For an agency it is an amazing tool because not only does it give you clear insights into your work but you can prove results to clients. More often than not, clients are not tech savvy or don't have time for meetings where you show them slides. You can set up a dashboard for a client and integrate all the metrics you follow for each account.
These can easily be filtered, giving a lot of flexibility to manage data for clients. One can choose between more than 280 different data sources. You just have to log in with the credentials of that specific account and choose the metrics you want displayed. The dashboards are predefined and you can use as such or you can start from scratch and build your own and customise with a drag and drop option.
Another appealing feature of Databox is that you can start small and scale up as you grow. It has a partner agency director and as an agency you can set up several customers, dashboards and data sources.
Furthermore, it has the option to set goals so you can track your performance. Just set up the goals with the client and the KPIs and set them up in Databox. You will receive notifications when you reach or miss the goals.
Having a customised analytics solution in place helps you as a company to understand your business, environment, audience, how they interact with you, make adjustments and grow better.
Station
To sum it up, we had to end with a tool where you can integrate all of the above and more. This is the holy grail of productivity and allows for great organisation.
We've all seen those crazy desktops with dozens of icons, or the browser with 30 tabs open at the same time. Station helps you declutter your computer, desktop and browser. This app bring everything in one place. Just like an apartment building, you have all your apartments in one place: Slack, Trello, Google Drive, WhatsApp, Hubspot, LinkedIn and whatever else might cross your mind.
Station has more than 500 different apps that you can embed and collate together. The best part is that it doesn't kill resources, battery, etc.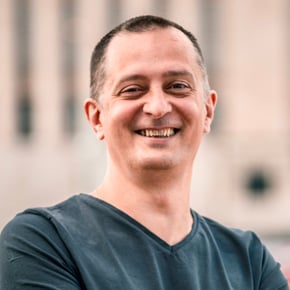 Constantin Buda
As the Growth Strategist and CEO of Vidalico Digital he works with B2B and B2C companies, helping them translate complex, high-tech information into marketing stories that drive sales.