While many see inbound marketing as the holy grail, it shouldn't be a surprise that it's not as simple as it seems. How do you decide whether inbound marketing is the right strategy for you? In this blog we'll look at the different elements you need to consider to build a successful inbound marketing strategy.
Disclaimer: inbound marketing will not answer all your questions or solve all your problems. Before even considering any kind of marketing strategy most businesses need to start by answering some questions about their business on a much more fundamental level. Sure, these questions might help you identify whether inbound marketing is right for you, but you will also learn a lot more than that.
If you are a smaller company one of the challenges you should consider is that more traditional industries generate leads differently, and because they address a global market they already have a huge customer base. B2B companies have considerably bigger marketing budgets, so compared to B2C, B2B usually sees a higher return on investment.
Where should you start?

Before making any big decisions, please consider the following questions:
Are you offering a product or service?
What is your ideal customer profile?
How do you plan to grow your business?
What are your business goals and strategies?
Is your market emerging, mature or somewhere in between?
Are you addressing a well-established industry or a niche?
What is the total addressable market?How big is the potential customer base?
How and where are your customers finding you?
Where are they looking for information?
What is the cost of acquiring new customers?
What is the cost of retaining existing customers?
How difficult is it for you to upsell and grow your customer base?
This might be a lot to take in, but before making any big decisions you need to answer all these fundamental questions. No need to panic; we can break down these topics step by step.

Step 1: Setting Goals
First and foremost, you have to set goals.
What are your overall business goals?
Where do you want to go and how do you plan on getting there?
Do your research. Look at the competition, the industry market, the audience you are targeting, and the message you want to send. Research can lead to new discoveries, like gaps in the market or new opportunities where you can place your product or service.
Second, define your Key Performance Indicators (KPIs) based on your goals to see how your inbound marketing strategy and campaigns are performing. Getting into these nitty-gritty details will help you with the content creation process, which has to answer the needs of your chosen audience.
Where should you start? You could, for example, host a discovery workshop that brings together the CEO, management staff, and the sales and marketing teams. This way, you make sure you all speak the same language and are on the same page. A discovery workshop helps you understand the overall business goals and align them with your own strategy. It also helps the teams work on the buyer persona, the voice, and the message. This is the foundation for a solid content strategy.
Furthermore, all the other teams can support the marketing or sales teams in understanding the pain points that need to be addressed. Having a clear overview of all these elements will make it easier to guide the audience on the buyer's journey.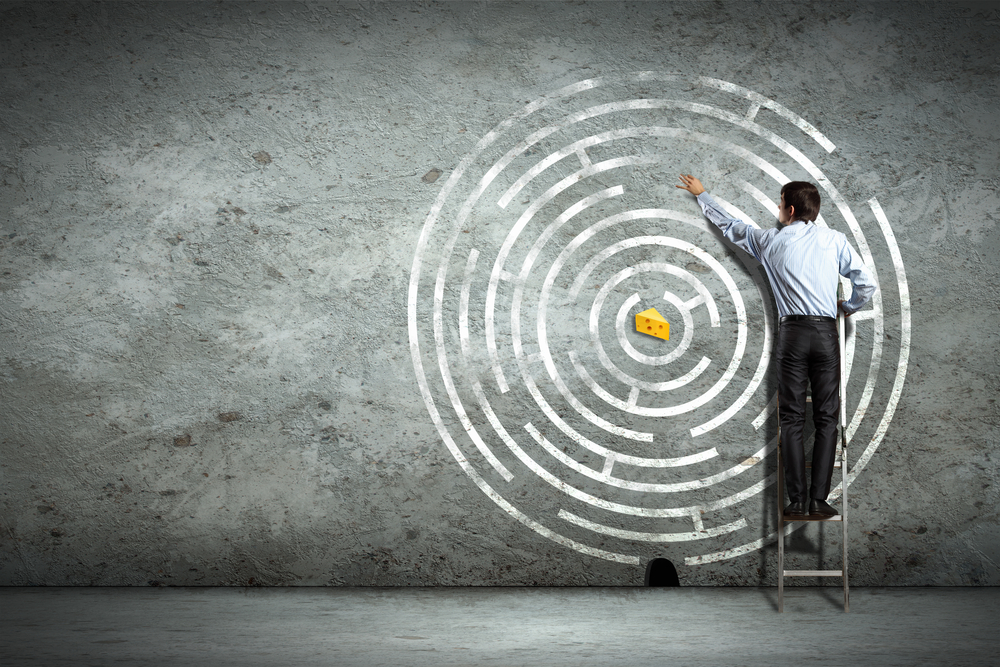 Step 2: Content: the key to potential customers finding you
You figured out your goals and outlined plans on how to get there. The next step is making sure your potential customers will be able to find your site.
Start with keyword research to understand what your audience is searching for when looking for your kind of product or service.
Here are some free tools you can use for your SEO and keyword research.
Hubspot's SEO tool
Google Search Console
Plugins such as 'Keywords Everywhere. Keywords Everywhere is a plugin you can install in Google Chrome, so every time you search for something with Chrome it is going to give you the related keywords.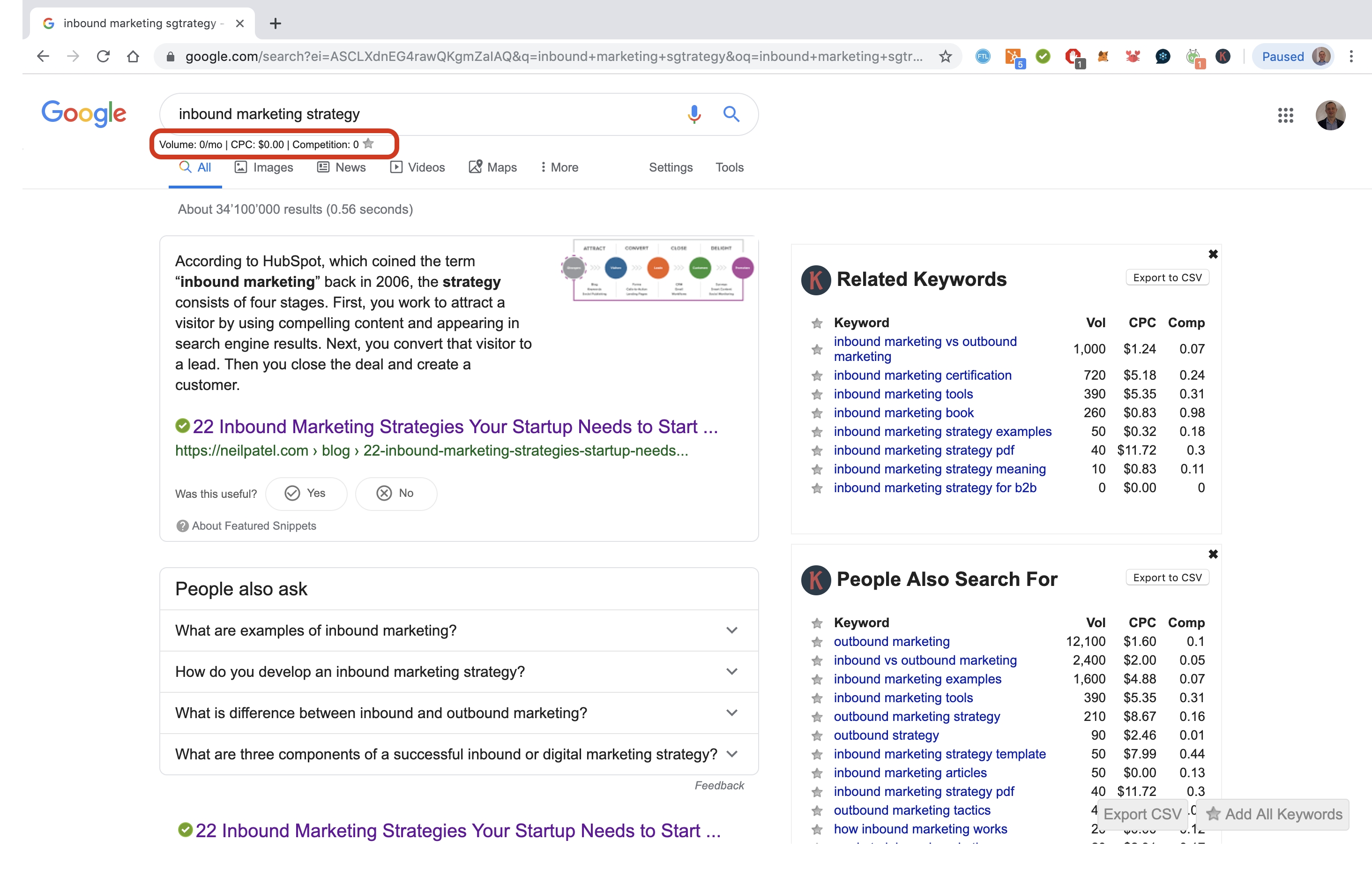 Additionally, you can try onsite SEO, which means you have to look at all the factors that influence SEO on your website. You can try out this free SEO tool to check your score and identify the improvements you need to make. Once you ensure your website follows all the best SEO practices, start planning and generating content.
Next, you should create your own calendar (or use templates available online) where you can organize upcoming pieces of content. When we say content, realize content can come in a variety of shapes and sizes: blog posts, videos, infographics, ebooks, case studies, white-papers, and more. It all comes down to your audience. What is the content they consume most and that they find most valuable? Regardless of the content, you wish to focus on, it's important to always have your buyer personas in mind.
Content and SEO are two elements of the inbound strategy that take time and require consistency before results start to show. However, if you want to speed up the process and you can afford it, invest in paid traffic generation. Using PPC will get you ahead by putting your message in front of the audience you wish to attract. PPC works for both search engines and social media so it's up to you to decide where to focus, depending, of course, on your audience and where you think they are most likely to be present and responsive.
Now that you've crossed off keyword research, SEO, and content strategy from your list, you must tick the Social Media box. This is not just a distribution channel for your content, but a great promotional tool that increases your brand awareness. Make sure you identify the right social media channels for your business. We wrote a blog post about choosing the right social media channel, which you can read here.
Step 3: Lead Generation
Converting visitors into leads means you have to define your buyer's journey, which equates to deciding what steps they should take during each stage. Premium content can convert visitors into leads and this means that you should create ebooks, guides, whitepapers, and case studies. These pieces of content bring more value and provide extra information that helps them make a decision.
Landing pages are another important element of generating and converting leads. If the landing pages are engaging, simple, and relevant, they will have good conversion rates.
A good landing page needs to be simple, eye-catching, and clear. Make sure your call to action ties into your goals and that it is clear and compelling enough for your visitors. Whether you invite them to download, read more, subscribe, or register, the workflow behind a form a visitor fills in has to be thoroughly planned and organized.

Step 4: Customer Acquisition
How do you actually acquire new customers? In this step it's important sales and marketing are aligned.
This can be managed in several ways, one of which is having a common CRM. A CRM gives both teams an overview of your databases. It tracks the actions taken on the website, your emails, and social media marketing.
It's also important to mention that aligning sales and marketing will enable the marketing team to create the right content and build trust with your leads. You do this by showing you are an expert in your industry and targeting them with the right information at the right time.
This ties into the communication lifecycle. What does that mean? You need to create a lead lifecycle plan based on your website content and sales funnel. Here you segment the leads based on who they are, how they interacted with your business online, what kind of content you want them to receive, and what part of the sales funnel you want them to receive it in.
Once you have a unified sales and marketing approach, it is much easier to nurture the leads and move them through the sales funnel. You can then use marketing automation to optimize this process. We wrote a comprehensive blog on marketing automation, which you can read here.
Automated workflows help with the lead nurturing and workflows help you create different marketing campaigns and flows for different leads. It gives you many other possibilities to help streamline and simplify your process. Workflows can also help sales by moving leads back and forth to marketing for lead nurturing, depending on their readiness to buy.
Last but not least, in this category, it's important to look at your KPIs. There are several ways to report and measure the results of your marketing and sales efforts. To measure this you can use the closed-loop reporting, where you can see what happens with the lead from the moment they enter your database/CRM. You can then measure the lead-to-customer conversion rate, as well as the lead sources, so you can focus on the best ones.
If everything is connected and you have done your job, you are able to get a good understanding of the value of your actions. There are many reporting tools to choose from, like the one provided by Hubspot. If you have multiple sources for your analytics and reporting, you can use Databox to organize all the data into dashboards.
Step 5: Customer Retention
Existing customers are an important source for referrals, so engaging and delighting them is key. To nurture them, you could develop a customer education or customer referral program where you constantly work with your customers, educate them and help them stay engaged with you. A customer education program can be implemented through email marketing by sending them valuable information about your service or product as well as the industry they are most interested in.
Referral programs are the holy grail of every marketeer because these customers come at a much lower cost and have a higher potential for retention and loyalty.
Step 6: Analytics
Now that everything is in place you need to see the results, analyze them and iterate.
With any new customer, it's important to check metrics such as customer acquisition cost and the ratio of customer value to customer acquisition cost, which is the total value your company derives from each customer compared to what you spend on acquiring a new customer. You have to look at all these things because only by analyzing, iterating, and improving the gaps in your process, will you be able to get better results.
One of the key things to measure which can prove your return on investment (ROI) is the percentage of customers influenced by your marketing efforts. Make sure to do onsite analysis, including how your website performs, keyword performance, rankings, organic search, traffic and conversions. You can analyse all activities including your blog performance, interaction and email open rates. There is also off-site analysis where you analyse paid campaigns and social media accounts and see what actually drove certain contacts to engage with your content.
This is not a simple or fast process but having an inbound strategy that is right for your industry can help you grow your business in a more sustainable way.
Did you find this useful? Perhaps you want to learn more about the elements that go into a growth plan, especially for B2B marketing? Download our B2B marketing guide for growth, where we dissect the components you should consider implementing in your strategy.
If you are not sure whether inbound marketing is right for you or whether your organization is inbound marketing ready, we are happy to help you by giving you a free assessment! Just book a time with us.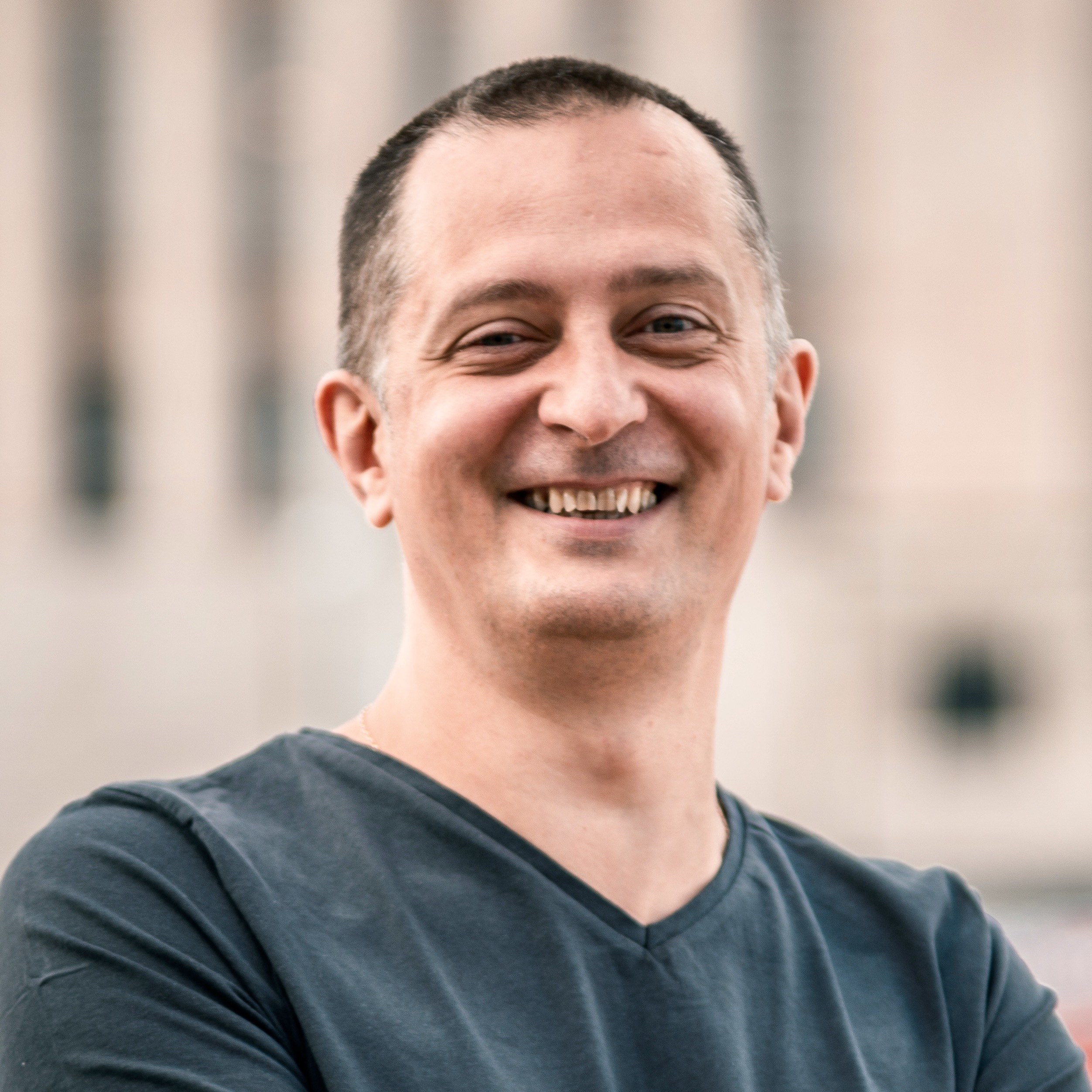 Constantin Buda
As the Growth Strategist and CEO of Vidalico Digital he works with B2B and B2C companies, helping them translate complex, high-tech information into marketing stories that drive sales.